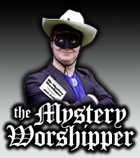 See our archive of reports
Famous/infamous
UK & Ireland
USA
Oz & NZ
Canada
Elsewhere

If you would like to become a Mystery Worshipper, start here.
3243: St Laurence, Cambridge, England

Read this report | Other comments

10 November 2017

I'm assistant priest at St Laurence, Cambridge, and feel that the Mystery Worship report on our church is a fair one.

The vigil mass is as described. The early Sunday mass is "low" (no music) but the 9.30 and the 11.00 have music, the children's liturgies, the after-mass moments, the displays and exchanges, the baptisms and special occasions, etc.

We have 700 at regular masses. The church is often overcrowded, especially at the 11.00 mass. Ours is a very fluid congregation: lots of new arrivals and departures. And so pastoral care is flexible and adapted to the needs of the shifting populations of Cambridge. Even so, people have a strong attachment to their parish. We have been blessed with a series of hardworking dedicated priests since it began. Also, two deacons!

There are many activities: a strong youth ministry, teams of catechists, adult faith formation with an Advent and a Lent programme, weekly scripture group, daily adoration, prayer groups, a very competent and caring chapter of the St Vincent de Paul Society with social workers' assistance, prisoner of conscience letters, quarterly parish meetings where all aspects of parish life are discussed, sharing of responsibilities, etc. The list is endless!

Half the congregation have family outside the UK, so many marriages we prepare are going to happen in Poland and Italy, etc. And there is a strong presence of Irish Travellers, the ethnic group who customarily live apart and maintain their traditional way of life.

We offer placements to seminarians. The Catholic Fund for Overseas Development has a strong input and our partners are villagers in Peru.

Your reporter was right about the atmosphere. But had I known he was coming, I'd have made him some cocoa.

Revd Bob Eccles



We rely on voluntary donations to stay online. If you're a regular visitor to Ship of Fools, please consider supporting us.



Easter 2010

From Yunnan in China to Louisville in Kentucky, we report on Easter services, 2010. Read here.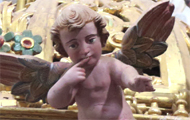 The Mystery Pilgrim

One of our most seasoned reporters makes the Camino pilgrimage to Santiago de Compostela in Spain. Read here.