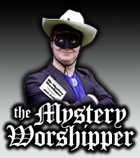 See our archive of reports
Famous/infamous
UK & Ireland
USA
Oz & NZ
Canada
Elsewhere

If you would like to become a Mystery Worshipper, start here.
3241: St Mary-at-Hill, Eastcheap, London

Read this report | Other comments

24 October 2017

Not mentioned in Sipech's interesting report is that St Mary-at-Hill and St Anne's Lutheran Church host a service of Bach Vespers with soloists and period orchestra on the last Sunday of most months.

Wonderful and inspiring worship.

Mr Mike Sarson


30 October 2017

The City of London is replete with streets that indicate areas where a trade was formerly plied. So the obvious church in which to bless bread would be All Hallows, Bread Street (demolished 1878; the parish now being part of St Mary-le-Bow).

That said, the Worshipful Company of Bakers' hall is in Harp Lane, which is much further east, near All Hallows by the Tower, where it holds its election services.

Mr Edward Bunting



We rely on voluntary donations to stay online. If you're a regular visitor to Ship of Fools, please consider supporting us.



Easter 2010

From Yunnan in China to Louisville in Kentucky, we report on Easter services, 2010. Read here.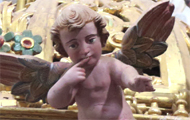 The Mystery Pilgrim

One of our most seasoned reporters makes the Camino pilgrimage to Santiago de Compostela in Spain. Read here.