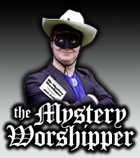 See our archive of reports
Famous/infamous
UK & Ireland
USA
Oz & NZ
Canada
Elsewhere

If you would like to become a Mystery Worshipper, start here.
3238: St Patrick's, Patterdale, England

Read this report | Other comments

26 December 2017

I was the preacher at this service but have only just found the report. The summary of the sermon is accurate but I have issues with other points.

I used the lectionary readings for the day (same for Methodist and Anglicans) but had no say in the printed sheets.

The other person taking part is a Methodist local preacher and there was a purpose in his "bizarre" questions. There is a link between his home church and Patterdale, as they provided help following the floods of 2015. You only had to ask and all would have been explained.

I value the worship and fellowship I share with this congregation, who show appreciation when I visit.

Lois Morton



We rely on voluntary donations to stay online. If you're a regular visitor to Ship of Fools, please consider supporting us.



Easter 2010

From Yunnan in China to Louisville in Kentucky, we report on Easter services, 2010. Read here.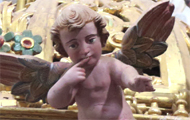 The Mystery Pilgrim

One of our most seasoned reporters makes the Camino pilgrimage to Santiago de Compostela in Spain. Read here.