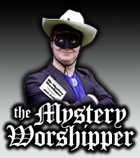 See our archive of reports
Famous/infamous
UK & Ireland
USA
Oz & NZ
Canada
Elsewhere

If you would like to become a Mystery Worshipper, start here.
3200: Grace Community Church, Surprise, Arizona, USA

Read this report | Other comments

July 17, 2017

Generally a good description of the service. However, to answer the question of why there were not any younger people attending the service: A few minutes of research would have shown the individual that he was in a retirement community where no one under 55 is allowed to live there.

Might be the reason for the "elderly."

Mr William Roeder

Lou M. Christie replies:

Yes, I know. But no one was checking birth certificates at the door. What's to stop a younger person from wanting to attend church, even if he couldn't live in the immediate area? There are other churches along Mountain View Boulevard that do not limit membership to the elderly.

If Grace Community chooses to minister exclusively to retirees, that is certainly their prerogative. But I seem to remember someone once saying, "Suffer little children to come to me, for of such is the kingdom of God."


July 18, 2017

Fifty per cent of our community are "snowbirds" – i.e., they are here only during the winter months and leave for the summer. A good reason for the relatively low attendance this past Sunday.

One other comment concerning our church is the fact that we do minister to any age. In fact, another visitor this past Sunday was an outstanding young man from the Phoenix Police Deptartment who found our church loving and will continue worshiping with us.

I hope the Mystery Worshipper will come again in the fall when all of our people are back.

Robert Williams



We rely on voluntary donations to stay online. If you're a regular visitor to Ship of Fools, please consider supporting us.



Easter 2010

From Yunnan in China to Louisville in Kentucky, we report on Easter services, 2010. Read here.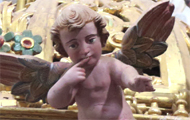 The Mystery Pilgrim

One of our most seasoned reporters makes the Camino pilgrimage to Santiago de Compostela in Spain. Read here.