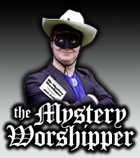 See our archive of reports
Famous/infamous
UK & Ireland
USA
Oz & NZ
Canada
Elsewhere

If you would like to become a Mystery Worshipper, start here.
3194: St Brelade, Jersey

Read this report | Other comments

5 July 2017

Thank you for your kind comments.

Your Mystery Worshipper obviously didn't notice that just before the peace, an elderly lady visitor had collapsed, and with minimum fuss we wheel-chaired her outside for air, accompanied by a retired GP in our congregation.

She then rang for an ambulance, and by the time worshippers were leaving I was heading for the hospital with her.

Therefore, I wasn't doing my regular "rector's wife" role of chatting and welcoming visitors at coffee. Rather, staying at the hospital with her and then bringing her back to her hotel was my priority that day.

However, I shall remind others that welcoming doesn't stop at the hall door.

The rector was a church organist for many years before ordination, and as there are a finite number of organists on our small island, it's preferable to using canned music throughout the service.

I do hope you will come back again. Yes, the coffee is fair trade.

Mrs Terri Bond



We rely on voluntary donations to stay online. If you're a regular visitor to Ship of Fools, please consider supporting us.



Easter 2010

From Yunnan in China to Louisville in Kentucky, we report on Easter services, 2010. Read here.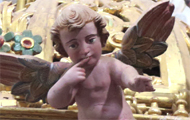 The Mystery Pilgrim

One of our most seasoned reporters makes the Camino pilgrimage to Santiago de Compostela in Spain. Read here.