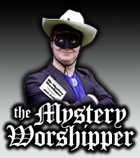 See our archive of reports
Famous/infamous
UK & Ireland
USA
Oz & NZ
Canada
Elsewhere

If you would like to become a Mystery Worshipper, start here.
3153: St John's Smith Square, Westminster, London

Read this report | Other comments

24 April 2017

It strikes me that the St John's, Smith Square, report is overly subjective in that it rather condemns the "liturgical event" merely for having failed to include the Allegri setting of the Miserere.

Now, I agree that the Allegri work is wonderful, but I'm sure the musical director had his reasons for not using it. Other musical settings of the text are available.

I don't object in the slightest to the Mystery Worshipper's being disappointed; but the whole report appears to have been written in the light (or shadow) of this "failure", which seems a little harsh.

Andrew Kleissner


Ken T. Poste replies:

Yes, I was disappointed.

However, I would dispute Andrew's assertion of the "whole report" being written in the shadow of this disappointment, as it is only mentioned in answer to two of the questions.

I would hope that the answer to "Which part of the service was like being in heaven?" made it clear that we all had an aural treat.

Ken T. Poste



We rely on voluntary donations to stay online. If you're a regular visitor to Ship of Fools, please consider supporting us.



Easter 2010

From Yunnan in China to Louisville in Kentucky, we report on Easter services, 2010. Read here.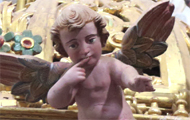 The Mystery Pilgrim

One of our most seasoned reporters makes the Camino pilgrimage to Santiago de Compostela in Spain. Read here.