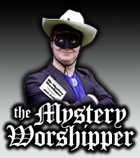 See our archive of reports
Famous/infamous
UK & Ireland
USA
Oz & NZ
Canada
Elsewhere

If you would like to become a Mystery Worshipper, start here.
3122: Encanto Community Church, Phoenix, Arizona, USA

Read this report | Other comments

May 12, 2018

Thank you, Miss Amanda, for your visit and for your report on our beloved church. It is so helpful to get an outsider's perspective on the whole thing.

I feel that your report is accurate and fair. I am sad that only one person welcomed you to the service. That is an area we know we need to work on and we thank you for pointing that out.

I feel like our choir really took it "in the shorts" but, as a choir member, I can't disagree with the assessment. We could use a few more leaders in a couple of sections (to help shore up pitch) and a lot more attention to phonation. We do have a concept of blending, breathing and dynamics, but we're still early enough in our musical learning that we need to be reminded more often about them.

Thank you again for your visit and report. I hope we get to see you again.

Cindy Walleywe



We rely on voluntary donations to stay online. If you're a regular visitor to Ship of Fools, please consider supporting us.



Easter 2010

From Yunnan in China to Louisville in Kentucky, we report on Easter services, 2010. Read here.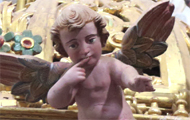 The Mystery Pilgrim

One of our most seasoned reporters makes the Camino pilgrimage to Santiago de Compostela in Spain. Read here.