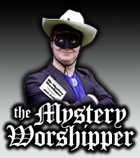 See our archive of reports
Famous/infamous
UK & Ireland
USA
Oz & NZ
Canada
Elsewhere

If you would like to become a Mystery Worshipper, start here.
3114: Fireplace Church, Blacksburg, Virginia, USA

Read this report | Other comments

February 17, 2017

I watched the video on YouTube about the founding of Fireplace Church. In it, the pastor said that they did a survey of the area and that three things led him to plant in Blacksburg: (1) there were no other "Spirit filled" churches in Blacksburg; (2) there was a lack of community within the churches that are here; and (3) there was a need for a church that had a good children's program.

All three of these statements are demonstrably false.

Not that he is lying, mind you, but they just go to show how surveys don't always paint a good picture of the reality of the situation, and how our own motivations are sometimes subject to question.

As someone who has planted three churches over the years, I can look back and admit now that, in examining an area as a potential site for a plant, I often saw what I wanted to see. I often took for granted the word of people without exploring whether or not they knew of what they were speaking. Nor did I always take into account that they may have had a number of motivations for answering they way they did.

Now, I believe God put me in each of the places I went to, but his reasons were often different from my own. I guess I felt like I needed to prove to others that God was sending me to them.

There is a certain other "Spirit filled" church in town that has been dwindling in numbers as of late. Some former members who have moved out of town have repeatedly mentioned to me their sorrow over its potential demise. They have scratched their heads over how a church that was once full of college students now struggles to attract any.

I don't know the answer to why certain churches fall out of fashion, and why others suddenly become ultra-popular. One thing is for sure, though, about Blacksburg: it is not because there are no other options.

It is good that Fireplace Church has been blessed by the Spirit, but it is not "the only Spirit-filled church in town," despite what the pastor may think.

Sign me, please, a "Local Hokie."



We rely on voluntary donations to stay online. If you're a regular visitor to Ship of Fools, please consider supporting us.



Easter 2010

From Yunnan in China to Louisville in Kentucky, we report on Easter services, 2010. Read here.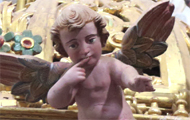 The Mystery Pilgrim

One of our most seasoned reporters makes the Camino pilgrimage to Santiago de Compostela in Spain. Read here.