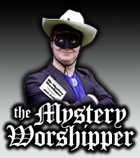 See our archive of reports
Famous/infamous
UK & Ireland
USA
Oz & NZ
Canada
Elsewhere

If you would like to become a Mystery Worshipper, start here.
3060: Whiteface Community United Methodist, Wilmington, New York, USA

Read this report | Other comments

August 22, 2016

I appreciate Mystery Worshipper Ronnie's comments regarding Whiteface UMC from several standpoints.

I was very pleased that Ronnie was so very warmly welcomed by the members of the congregation.

I retired after 30 years' service in a local Methodist church in northern Virginia and am familiar with both hymns mentioned. I was in seminary at the time "Make Me a Channel of Your Peace" was written. The composer, Sebastian Temple, visited us and presented all of us with a copy of his hymnal.

As to the "off key singing," I would refer Ronnie to the front of any Methodist hymnal, where one will find John Wesley's guide for singing, including my personal favorite, Rule 4: "Sing lustily and with good courage." (Wesley's words.) The people are not singing for the entertainment of their brother and sister congregants, but rather to God, who gave each of them a voice to praise the Creator of all things.

Mr Ralph Maxwell



We rely on voluntary donations to stay online. If you're a regular visitor to Ship of Fools, please consider supporting us.



Easter 2010

From Yunnan in China to Louisville in Kentucky, we report on Easter services, 2010. Read here.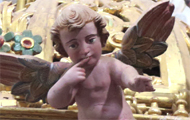 The Mystery Pilgrim

One of our most seasoned reporters makes the Camino pilgrimage to Santiago de Compostela in Spain. Read here.