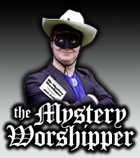 See our archive of reports
Famous/infamous
UK & Ireland
USA
Oz & NZ
Canada
Elsewhere

If you would like to become a Mystery Worshipper, start here.
Old St Joseph's, Philadelphia, Pennsylvania, USA

Read this report | Other comments

July 28, 2016

Thank you for taking the time to visit "Old Saint Joe's," as we fondly call it, and including the Stations of the Cross as a memorable part of your experience.

It was my first church commission and one that has continued to bring me deeper into the passion and the gift God has given me to serve the Church and His faithful.

Mr Anthony Visco

Paterfamilias replies:

Thank you so much, Anthony, for your comment on my Mystery Worship report. I went to your web page and was fascinated to learn more about your work.

My wife and I will be in Philadelphia again in the fall of 2017, and I will definitely make time to see your work at Bryn Mawr Presbyterian and St Rita's.

Thank you again.

Sincerely,
Paterfamilias



We rely on voluntary donations to stay online. If you're a regular visitor to Ship of Fools, please consider supporting us.



Easter 2010

From Yunnan in China to Louisville in Kentucky, we report on Easter services, 2010. Read here.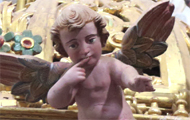 The Mystery Pilgrim

One of our most seasoned reporters makes the Camino pilgrimage to Santiago de Compostela in Spain. Read here.