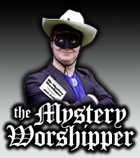 See our archive of reports
Famous/infamous
UK & Ireland
USA
Oz & NZ
Canada
Elsewhere

If you would like to become a Mystery Worshipper, start here.
2985: St Mary Newington, Kennington, London

Read this report | Other comments

11 March 2016

Although George Whitfield spent a lot of time in America and died there, he was actually English, born in Gloucester, and never settled permanently in America. Additionally, he frequently returned to the UK to preach and raise money.

I live in Gloucestershire and have often tried to identify Whitfield's tump on Minchinhampton Common, where he preached to several thousand people in 1739. There are several plausible tumps in a very small area, so I have stood on all of them in the hope that one was correct!

I have also led worship at Rodborough Tabernacle United Reformed Church, which possesses a walking cane that is said to have belonged to George Whitfield and which I was allowed to handle.

Mrs Alison Jackson



We rely on voluntary donations to stay online. If you're a regular visitor to Ship of Fools, please consider supporting us.



Easter 2010

From Yunnan in China to Louisville in Kentucky, we report on Easter services, 2010. Read here.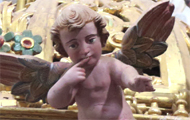 The Mystery Pilgrim

One of our most seasoned reporters makes the Camino pilgrimage to Santiago de Compostela in Spain. Read here.