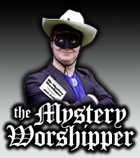 See our archive of reports
Famous/infamous
UK & Ireland
USA
Oz & NZ
Canada
Elsewhere

If you would like to become a Mystery Worshipper, start here.
2970: Westminster Chapel, London

Read this report | Other comments

13 September 2016

In the report on Westminster Chapel, London, the Mystery Worshipper wrote that someone approached him after the service and asked him if he could "sum up in one sentence what [the sermon] was about." The reporter remarked that he thought it "a slightly odd question. "

As a preacher in training, I am often asked by my tutors to collect feedback from the congregation in order that they can assess whether the congregation are actually hearing what I think I am telling them.

Is it possible that the questioner could have been collecting such feedback?

Rosalie Squires



We rely on voluntary donations to stay online. If you're a regular visitor to Ship of Fools, please consider supporting us.



Easter 2010

From Yunnan in China to Louisville in Kentucky, we report on Easter services, 2010. Read here.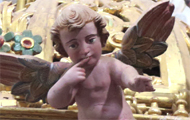 The Mystery Pilgrim

One of our most seasoned reporters makes the Camino pilgrimage to Santiago de Compostela in Spain. Read here.