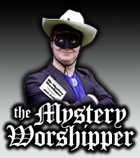 See our archive of reports
Famous/infamous
UK & Ireland
USA
Oz & NZ
Canada
Elsewhere

If you would like to become a Mystery Worshipper, start here.
2958: St Gregory the Great, Cheltenham, England

Read this report | Other comments

25 April 2016

I am a regular at St Gregory's and I think Secret Squirrel has produced a very fair review.

However, it might be worth noting that the three Sunday masses at St Gregory's have very different characters.

The 9.30am is the children's liturgy and has more modern music.

The 11.15am is the high mass - some parts are sung in Latin and the music is much more traditional.

At the 6.00pm there is no music and the service is much more simple in character.

This might help potential worshipers understand and distinguish between the options at St Greg's.

Many thanks!

Ms Katherine Lattadate



We rely on voluntary donations to stay online. If you're a regular visitor to Ship of Fools, please consider supporting us.



Easter 2010

From Yunnan in China to Louisville in Kentucky, we report on Easter services, 2010. Read here.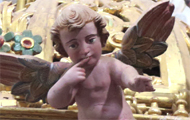 The Mystery Pilgrim

One of our most seasoned reporters makes the Camino pilgrimage to Santiago de Compostela in Spain. Read here.