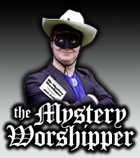 See our archive of reports
Famous/infamous
UK & Ireland
USA
Oz & NZ
Canada
Elsewhere

If you would like to become a Mystery Worshipper, start here.
2945: Laird Street Baptist, Birkenhead, England

Read this report | Other comments

10 November 2015

Really sorry you thought the sermon was only 6 out of 10. It's clear from your summary that the message did not come across with the clarity I had hoped.

What I was trying to say was to challenge the prevailing idea that Ephesians 4 defines ministry as requiring up to five "elements" or, as it is often called, the "five fold ministry." Rather, what matters is its impact on the people of God.

The new pastor and her church should be less concerned about whether they conform to defined expectations of ministry, so much as whether they are growing into the fullness of Christ.

Revd Phil Jump



We rely on voluntary donations to stay online. If you're a regular visitor to Ship of Fools, please consider supporting us.



Easter 2010

From Yunnan in China to Louisville in Kentucky, we report on Easter services, 2010. Read here.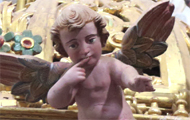 The Mystery Pilgrim

One of our most seasoned reporters makes the Camino pilgrimage to Santiago de Compostela in Spain. Read here.