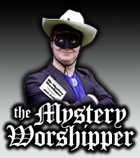 See our archive of reports
Famous/infamous
UK & Ireland
USA
Oz & NZ
Canada
Elsewhere

If you would like to become a Mystery Worshipper, start here.
2910: St Peterís, Stockport, England

Read this report | Other comments

2 September 2015

Thank you, Mystery Worshipper, for visiting our beautiful church!

You have captured the essence of this very historic church and given a glowing report of the atmosphere that Father Kenneth Kenrick has fostered here.

Please feel welcome any time.

Mrs Annette Dunne


22 February 2016

I used to go to this church. Glad to see it is still flourishing.

I think the bit that reminded me of the "other place" was that Copeman Hart "toaster," which, as I recall, took an age to warm up!

I'd be interested to know the story of the altarpiece. It's clearly not old and looks like a copy by an amateur artist of another painting.

Mrs Helen Kent



We rely on voluntary donations to stay online. If you're a regular visitor to Ship of Fools, please consider supporting us.



Easter 2010

From Yunnan in China to Louisville in Kentucky, we report on Easter services, 2010. Read here.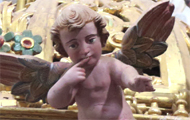 The Mystery Pilgrim

One of our most seasoned reporters makes the Camino pilgrimage to Santiago de Compostela in Spain. Read here.