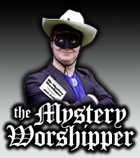 See our archive of reports
Famous/infamous
UK & Ireland
USA
Oz & NZ
Canada
Elsewhere

If you would like to become a Mystery Worshipper, start here.
2907: St Giles, Northampton, England

Read this report | Other comments

5 September 2015

I want to say that if anyone did not find a warm welcome at St Giles, if they have been overlooked or ignored in any way, then I am sorry about that. The welcome statement for our church says: "We're not perfect, but as a community we are seeking to put God first and to share his perfect love in our town and beyond. So, come as you are!" This is what we aim to do on a Sunday. Our worship does not seek to cater for individual tastes and preferences, but rather to honour God and give him glory.

My reaction to the report is that it is not representative. One of our occasional visitors has written as follows:

"Following the recent less than ideal review, I would just like to reassure you that I have never had a problem with St Giles in all the years I have been making occasional visits. I have always found your welcome good without being intrusive, and have never been told off for 'sitting in someone else's seat.' I am a regular worshipper in another church in Northampton, but I go to St Giles occasionally to experience a different type of worship and reacquaint myself with old friends. I come out of the service with my faith re-energised and uplifted in my spirit. I wouldn't want to be there every week, but it works for me when I do go!"

We do take genuine feedback seriously. Earlier this year we invited a team of people to consider how we might improve the whole process of visiting, joining and becoming a committed member of a large church like St Giles. It can be daunting! It certainly takes time. We can certainly improve the process.

We are a community of all ages and backgrounds drawn from many different parts of our town. We are part of an institution, the Church of England, but we seek to be a community and a family. We do have fun together, and it's great to catch up when we gather at our services. Sunday mornings reflect just one aspect of our life together. I said recently that it's the tip of the iceberg! And you don't judge or measure an iceberg by what you see above the waterline.

If anyone wants to see and experience St Giles Church, they are most welcome to visit our other groups, activities and outreach ministries.

Revd Steve Kelly
Vicar of St Giles

Blanik replies;

As a Mystery Worshipper I try to be fair and honest. I always try very hard to report a church just as I see it, without fear or favour. You will note that even though I am not from your town or county, I reported favourably on other local churches.

Like any person visiting for the first time, we do only see what is the "tip of the iceberg, or above the water" as you say. That is what ANY new person visiting your church will see and experience. This is what will make them decide whether to return or not.

And that is one of the purposes of the Mystery Worshipper reports – to see how new people are welcomed into any church – or not.



We rely on voluntary donations to stay online. If you're a regular visitor to Ship of Fools, please consider supporting us.



Easter 2010

From Yunnan in China to Louisville in Kentucky, we report on Easter services, 2010. Read here.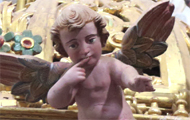 The Mystery Pilgrim

One of our most seasoned reporters makes the Camino pilgrimage to Santiago de Compostela in Spain. Read here.