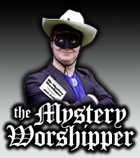 See our archive of reports
Famous/infamous
UK & Ireland
USA
Oz & NZ
Canada
Elsewhere

If you would like to become a Mystery Worshipper, start here.
2906: Holy Trinity Brompton Road, London

Read this report | Other comments

30 June 2016

I would first like to say that I find your website quite troubling – an expression of the consumerist world we live in. Now we rate churches as if they were shopping experiences?

I would just like to point out a mistake on the part of the Mystery Worshipper who attended Holy Trinity, Brompton. When the congregation claps during the sung worship time, the applause is actually directed to God, not to the band. I can see how he mistook it for applause directed to the worship team. It probably should've been made clear whom it was for. My concern is someone stumbling upon this review and judging HTB on a mistaken observation.

In addition, I find it deeply offensive that this gentleman ended his review with the sentence: "I didn't feel that God had come to church this week." He clearly is used to a different tradition of the Christian faith and finds fulfillment and connection to God in that expression. But if we all had that attitude, we would conclude that God didn't meet with his people because the church service we happened to attend didn't include the elements that we regard as vital. A Roman Catholic might thus conclude that God wasn't present because the eucharist was not celebrated. A Methodist might conclude likewise because no hymns by Charles Wesley were sung. Attitudes like these put God in a box and undermine the personal experiences of the individual who meets with God in the church of his choosing.

I don't want to come across as sarcastic or cutting. I just have a serious problem with this highly subjective assessment, which is exactly why reports like this, especially in regard to church, are frankly irresponsible.

Mr M F



We rely on voluntary donations to stay online. If you're a regular visitor to Ship of Fools, please consider supporting us.



Easter 2010

From Yunnan in China to Louisville in Kentucky, we report on Easter services, 2010. Read here.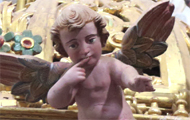 The Mystery Pilgrim

One of our most seasoned reporters makes the Camino pilgrimage to Santiago de Compostela in Spain. Read here.