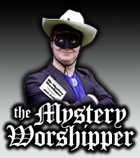 See our archive of reports
Famous/infamous
UK & Ireland
USA
Oz & NZ
Canada
Elsewhere

If you would like to become a Mystery Worshipper, start here.
2873: St Paul's, Cheshunt, England

Read this report | Other comments

23 May 2016

St Paul's Cheshunt was bought by the Catholic Church around 1964. I know I am correct as we lived in the house opposite it and spent many happy summer holiday mornings at mass with the first parish priest, Father Galluchi.

The church was bought for the Italian community of the Lea Valley.

Originally there was a stage at the far end with a beautiful carved wooden altar. I believe that came from a side altar at St Joseph's at Waltham Cross. It is sad to see it is now gone. My late brother and I spent many hours polishing the wood.

Maggie Jenkins



We rely on voluntary donations to stay online. If you're a regular visitor to Ship of Fools, please consider supporting us.



Easter 2010

From Yunnan in China to Louisville in Kentucky, we report on Easter services, 2010. Read here.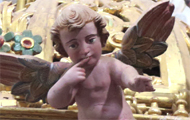 The Mystery Pilgrim

One of our most seasoned reporters makes the Camino pilgrimage to Santiago de Compostela in Spain. Read here.