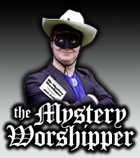 See our archive of reports
Famous/infamous
UK & Ireland
USA
Oz & NZ
Canada
Elsewhere

If you would like to become a Mystery Worshipper, start here.
2856: Redland Parish Church, Bristol, England

Read this report | Other comments

21 May 2015

I realise that the Mystery Worshipper did not have a very good experience at Redland, but I just wanted to point out that the Ascension Day service, being on a Thursday, was very far from being our normal service.

Our two evening services normally have approximately 50 people in each, and our morning service has around 150-170.

It was a shame you couldn't stay for coffee, as generally our people are a welcoming bunch.

Could we invite you to come back on a Sunday morning?

Revd Mars Goodman
Associate Vicar

Leo replies:

I did realise that it was unlike a normal Sunday service. However, Ascension Day is a major festival and is a bank holiday in many European countries.

I thought long and hard before writing the report lest it sound unduly negative. I did, however, try to point out the positive: that the ministers are volunteers, that many good things happen on weekdays, and that the Sunday services have a higher than (diocesan) average attendance. Indeed, the programme on Sundays looks very suitable for seekers and for those who are at the early stages of their walk with Jesus.

The term card on the website is out of date, ending with April, so it isn't possible to know when holy communion is celebrated. But if I were to return, I should hope that holy communion would not leave out two of the four of Jesus' actions: he took the bread, blessed it, broke it, and gave it to his disciples. The taking and breaking were absent from the service I attended.



We rely on voluntary donations to stay online. If you're a regular visitor to Ship of Fools, please consider supporting us.



Easter 2010

From Yunnan in China to Louisville in Kentucky, we report on Easter services, 2010. Read here.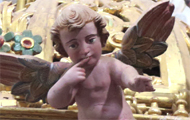 The Mystery Pilgrim

One of our most seasoned reporters makes the Camino pilgrimage to Santiago de Compostela in Spain. Read here.