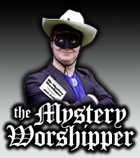 See our archive of reports
Famous/infamous
UK & Ireland
USA
Oz & NZ
Canada
Elsewhere

If you would like to become a Mystery Worshipper, start here.
2853: St Markís Cathedral, Seattle, Washington, USA

Read this report | Other comments

May 4, 2015

I don't entirely understand why the visitor expected a personal welcome at a service that is known locally primarily as a radio broadcast.

Unlike its other services, evensong at St Mark's is essentially a concert. People do go in person, as I did once long ago, but Capitol Hill is a place with a reputation for violence, despite some fine old homes. Not many choose to be there after dark unless they are going to a specific club or event, usually something involving rather heavy drinking.

Seattle is one of the most unchurched cities in the US, so going to church in person is generally viewed as slightly weird behavior in the first place.

St Mark's has a good reputation for being a good neighbor in an historically gay area, so they do manage to be friendly under most circumstances. But people in Seattle are famously standoffish in any case. We talk about "the Seattle freeze." And despite the rainy climate, we stoically avoid the use of umbrellas.

I am not a member of St Mark's, or even of the Anglican Communion, so I speak only as a churchgoing longtime resident of Seattle. I, too, am sometimes puzzled by institutions of the Episcopal Diocese of Olympia, despite having friends among its clergy and laity.

Mrs Marie Moffitt

May 5, 2015

From the few times I went to services at St Mark's in the mid to late 1990s, I was always warmly welcomed and found many seekers of truth and a friendly, open congregation.

That said, the choral services aren't generally occasions for chat and meet and greet. Capitol Hill has changed a lot since I lived in the Seattle area (I left in 2001 for the East Coast) but surely it isn't the violent place the other woman makes it out to be.

However, she is correct about the "Seattle freeze." I've experienced it many a time in the eleven years I lived there. People in Seattle aren't gushing over with friendliness. It takes time and effort for them to warm up to people, and most of them aren't going to chat you up from one random visit to a church. Some natives are very loyal and true friends but they do tend to be standoffish until you can break the ice with them.

Ms Maura NiConnell

Werburga of Chester replies:

Fascinating, given that I walked over later in the dark to compline and back through this apparently downright dangerous neighborhood. My guardian angel was obviously on overtime. And interesting that neither my guidebook, nor any Seattle resident, not even my landlady for the night, mentioned that it might be an unsafe thing to do.

What I did not mention in my report is that I was not the only stranger in the congregation for evensong that day. The other visitor was as bemused as I was by the general lack of welcome (we only met walking out of the building, which is why I did not mention him in the report). We walked about six blocks together talking about the service. He lives in the city but had not attended St Markís before.

I stand by my final statement, though. The Seattle freeze isnít going to melt nor the church reach out to the unchurched if no one says "Welcome." I contrasted this with my own cathedralís practice this last Sunday, with the precentor (canon in residence) booming out, "Welcome to this cathedral church!" as soon as the choir and clergy had processed into place, and smiling as if he meant it. Nice to be home!

But it's good to see that someoneís taking notice of the Ship up there in unchurched Seattle.



We rely on voluntary donations to stay online. If you're a regular visitor to Ship of Fools, please consider supporting us.



Easter 2010

From Yunnan in China to Louisville in Kentucky, we report on Easter services, 2010. Read here.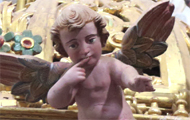 The Mystery Pilgrim

One of our most seasoned reporters makes the Camino pilgrimage to Santiago de Compostela in Spain. Read here.