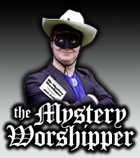 See our archive of reports
Famous/infamous
UK & Ireland
USA
Oz & NZ
Canada
Elsewhere

If you would like to become a Mystery Worshipper, start here.
2846: Grace and Holy Trinity Cathedral, Kansas City, Missouri, USA

Read this report | Other comments

May 2, 2015

First, thank you for worshipping at the cathedral and taking the time to fill out a report. I remember talking with you and hearing something about your own faith journey and home church. I appreciate that you took the time for a conversation.

A few comments:

This was a weekday celebration in Easter season. In Easter season it is the custom in many places to omit the confession of sin, though I am not so sure that is a wise pastoral move.

The Nicene Creed is typically not said at a daily eucharist. See the rubric that precedes the Creed. It is recited on Sundays and all principal feasts, e.g. feasts of Our Lord and traditional Prayer Book saints' days.

Also, we do try to have a shorter liturgy for persons taking time during lunch hour to attend.

As for vestments, I choose to wear an alb and stole on weekdays unless it is a festival or special occasion. Not all days are the same, and it saves wear and tear on vestments.

You make a good point about the hand sanitizer!

I must caution you, however, in assessing those present as seeming to be going through the motions.

You are always welcome at the cathedral. We strive to be a living church in the best sense. May you know the peace and presence of our risen Lord.

Peter DeVeau

PS Did you leave a Mystery Worshipper calling card?

May 7, 2015

A comprehensive report. It should be noted that the cathedral offers a weekday service even though the demand is slack. In many places the Episcopal church would be locked up midweek.

There are even those who give the dean (an open and friendly man) grief for being in church on a bright sunny weekday when he could be on the golf course instead.

Jack Morrison



We rely on voluntary donations to stay online. If you're a regular visitor to Ship of Fools, please consider supporting us.



Easter 2010

From Yunnan in China to Louisville in Kentucky, we report on Easter services, 2010. Read here.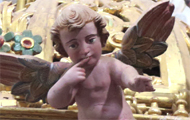 The Mystery Pilgrim

One of our most seasoned reporters makes the Camino pilgrimage to Santiago de Compostela in Spain. Read here.