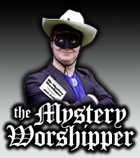 See our archive of reports
Famous/infamous
UK & Ireland
USA
Oz & NZ
Canada
Elsewhere

If you would like to become a Mystery Worshipper, start here.
2818: Grace Family Church, Aigburth, Liverpool, England

Read this report | Other comments

February 10, 2015

While this doesn't sound like my sort of thing at all (quite the opposite, in fact), I have to say that clicking on the map on their website brought me (via Google Street View) right up to the door, with the words "Grace Family..." clearly visible.

As for the health centre ... nowhere to be seen!

Perhaps I was just lucky. Or maybe it demonstrates that God moves in mysterious ways.

John Brown



We rely on voluntary donations to stay online. If you're a regular visitor to Ship of Fools, please consider supporting us.



Easter 2010

From Yunnan in China to Louisville in Kentucky, we report on Easter services, 2010. Read here.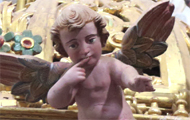 The Mystery Pilgrim

One of our most seasoned reporters makes the Camino pilgrimage to Santiago de Compostela in Spain. Read here.