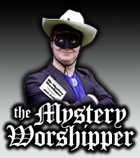 See our archive of reports
Famous/infamous
UK & Ireland
USA
Oz & NZ
Canada
Elsewhere

If you would like to become a Mystery Worshipper, start here.
2815: St John's, Detroit, Michigan, USA

Read this report | Other comments

February 10, 2015

Thank you to High Tory for his Mystery Worshipper report on our parish. I think he has us pegged pretty well.

Three quick notes:

The "deacon" was actually my retired assistant priest, Father Michael Bedford, SSC.

Although I usually stand at the side door and invite people downstairs for coffee, I did not on that Sunday because I had to get materials downstairs for the annual parish meeting. Perhaps he is confusing this visit with another time he was here and I was at my usual station.

Sorry to hear about his impression of coffee hour. We try to be intentional about greeting newcomers, but with the annual parish meeting starting after mass, we were a bit preoccupied. But I do hope that he, and others, will come again.

Revd Steven Kelly, SSC

High Tory replies:

I'm pretty sure the rector was at the door, but I suppose I was mistaken.

As for the deacon, I presumed him to be a deacon, not a priest, because he was doing deacon duties, as in reading the gospel.



We rely on voluntary donations to stay online. If you're a regular visitor to Ship of Fools, please consider supporting us.



Easter 2010

From Yunnan in China to Louisville in Kentucky, we report on Easter services, 2010. Read here.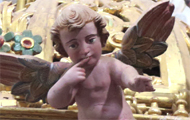 The Mystery Pilgrim

One of our most seasoned reporters makes the Camino pilgrimage to Santiago de Compostela in Spain. Read here.