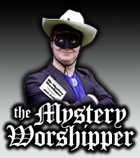 See our archive of reports
Famous/infamous
UK & Ireland
USA
Oz & NZ
Canada
Elsewhere

If you would like to become a Mystery Worshipper, start here.
2813: St Mary the Virgin, Hamilton, Ontario, Canada

Read this report | Other comments

5 February 2015

Thank you for your very kind review of our service for the Conversion of St Paul.

Just a word about our 1991 Prayer Book.

The book was based on the 1928 Book of Common Prayer, which is not under copyright, of what was then the Protestant Episcopal Church of the United States of America.

We then added parts (Prime and Compline) of the 1928 proposed Prayer Book of the Church of England, the so-called Deposited Prayer Book. The Canon is a slightly modified Cranmer (justice should be ministered, not administered).

Many of the feasts of the lesser saints are included, as well as the four ember days, each with its own collect, epistle and gospel.

Our BCP was reviewed by the late Father Robert Crouse, who regarded our 1991 BCP and its companion book, our 1991 Music Psalter, as the "best of twentieth century revisions."

The Most Revd Peter W. Goodrich
Archbishop and Primate
Independent Anglican Church, Canada Synod



We rely on voluntary donations to stay online. If you're a regular visitor to Ship of Fools, please consider supporting us.



Easter 2010

From Yunnan in China to Louisville in Kentucky, we report on Easter services, 2010. Read here.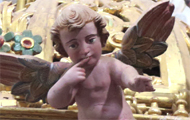 The Mystery Pilgrim

One of our most seasoned reporters makes the Camino pilgrimage to Santiago de Compostela in Spain. Read here.