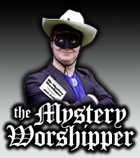 See our archive of reports
Famous/infamous
UK & Ireland
USA
Oz & NZ
Canada
Elsewhere

If you would like to become a Mystery Worshipper, start here.
2811: Chichester Ordinariate Group, St Richard's, Chichester, England

Read this report | Other comments

2 February 2015

The remark about the Ordinariate Group being visited by Ronald Crane is interesting.

Teutonic Knight describes Mr Crane as being "in mufti." He would be, because he is no longer a priest and so would not be afforded the title "Revd" or "Father."

Mr Crane joined the Ordinariate and submitted himself for ordination but was refused ordination by the Archbishop of Birmingham.

S.L.

[Editor's note: The report has been modified to remove references to Mr Crane being a priest.]

Teutonic Knight replies:

Thank you for pointing this out. I am fascinated by this report of him having been turned down. I visited the group a total of six times beginning just before Christmas, and on three separate occasions we were told by Father Graham that "Father Ronald" would be visiting and it would be good if we turned out in force. We were even asked which date would suit us better, the 17th or the 31st of January. I put both dates down in my diary as "Father Ronald visiting." I can only assume that Father Graham must have been unaware of Mr Crane's lay status.

I have been reading their publication on and off for quite some time, and he has certainly figured in it as "Father" in the past. The cover of one issue featured a picture of him dressed in clericals. It must be that he was still in Anglican orders at that time.



We rely on voluntary donations to stay online. If you're a regular visitor to Ship of Fools, please consider supporting us.



Easter 2010

From Yunnan in China to Louisville in Kentucky, we report on Easter services, 2010. Read here.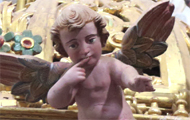 The Mystery Pilgrim

One of our most seasoned reporters makes the Camino pilgrimage to Santiago de Compostela in Spain. Read here.