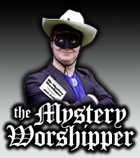 See our archive of reports
Famous/infamous
UK & Ireland
USA
Oz & NZ
Canada
Elsewhere

If you would like to become a Mystery Worshipper, start here.
2806: St Mary with St Columba, Liscard, Wallasey, England

Read this report | Other comments

15 February 2015

Thanks for this lovely report. Sister Val read it to the congregation this morning (yes, she had her sensible kit on!) and we were made up.

I provided the brandy butter. I got it for our family Christmas dinner and daughter brought some as well.

I have never known the chalice to be dropped, but what do I know ... I didn't notice it on this occassion. Richard Burton is obviously a consummate actor!

Much love. Come again anytime. I'm doing pancakes this Tuesday, 3.00pm. All welcome.

Barbara Williams



We rely on voluntary donations to stay online. If you're a regular visitor to Ship of Fools, please consider supporting us.



Easter 2010

From Yunnan in China to Louisville in Kentucky, we report on Easter services, 2010. Read here.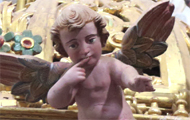 The Mystery Pilgrim

One of our most seasoned reporters makes the Camino pilgrimage to Santiago de Compostela in Spain. Read here.