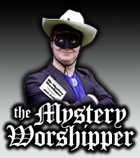 See our archive of reports
Famous/infamous
UK & Ireland
USA
Oz & NZ
Canada
Elsewhere

If you would like to become a Mystery Worshipper, start here.
2794: Chapel, Loyola House of Retreats, Morristown, New Jersey, USA

Read this report | Other comments

April 27, 2015

I attended a weekend retreat at Loyola in Morristown a few weeks ago and thought I needed to update some of the history of the house.

The mansion was built in 1904 and was a place of residence for the Foote family. It is located on 33 acres of wooded land. There is a 3/4 mile outdoor path with Stations of the Cross (very pretty in the spring) and also in the backyard is a sunken garden with fountains and a fish pond.

Retreats were popular around 1900 and so the Jesuits began looking for a place to hold retreats in northern New Jersey. A private benefactor bought this mansion from the Foote family in 1927 and gave it to the Jesuits. They have used it as a retreat house since then.

The east wing was added in 1949 (36 additional rooms) and the west wing was added in 1959 (an additional 26 rooms).

The house has a library, two chapels (St Katherines and Christ the Priest Chapel), a bookstore and meeting rooms.

Kat



We rely on voluntary donations to stay online. If you're a regular visitor to Ship of Fools, please consider supporting us.



Easter 2010

From Yunnan in China to Louisville in Kentucky, we report on Easter services, 2010. Read here.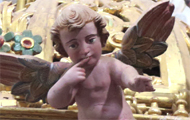 The Mystery Pilgrim

One of our most seasoned reporters makes the Camino pilgrimage to Santiago de Compostela in Spain. Read here.