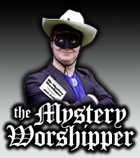 See our archive of reports
Famous/infamous
UK & Ireland
USA
Oz & NZ
Canada
Elsewhere

If you would like to become a Mystery Worshipper, start here.
2760: Jehovah's Witnesses UK Convention, Liverpool, England

Read this report | Other comments

22 September 2014

Torold, like many, is blissfully unaware of what the Watchtower is about.

Most members have never studied the history of the Watchtower Bible and Tract Society other than what they have been told by the Society itself.

The Watchtower Bible and Tract Society teaches that it alone has the "truth" because the topics it treats are "not the opinion of man but come direct from Jehovah."

They make good use of the term "sincere Christian," by which members understand that they alone are sincere and everyone else is false - a liar and not a true believer in God.

When two come to your door offering a Bible study, they do not mean a Bible study where you open the Bible and study a passage. What they mean is that you study a Watchtower publication, What the Bible Really Says, and study parrot fashion the Society's take on the Bible. Each chapter begins with references to the Bible but then goes on to make claims that are not in the Bible.

I would recommend Torold take a wider look at Jehovah's Witnesses other than the Watchtower self-look.

Charles Veritie



We rely on voluntary donations to stay online. If you're a regular visitor to Ship of Fools, please consider supporting us.



Easter 2010

From Yunnan in China to Louisville in Kentucky, we report on Easter services, 2010. Read here.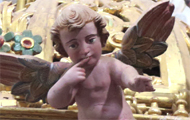 The Mystery Pilgrim

One of our most seasoned reporters makes the Camino pilgrimage to Santiago de Compostela in Spain. Read here.