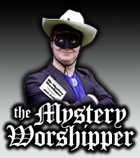 See our archive of reports
Famous/infamous
UK & Ireland
USA
Oz & NZ
Canada
Elsewhere

If you would like to become a Mystery Worshipper, start here.
2741: St Joan of Arc, Orleans, Massachusetts, USA

Read this report | Other comments

September 4, 2014

The preacher is précised as saying: "The Feast of the Assumption ... was only introduced to the calendar in 1950."

That can't be right. The Feast of the Assumption was in the Tridentine Missale Romanum and other service books dating back well before 1000.

The doctrine was defined by the Pope only in 1950, but the belief was universal in Catholic practice long before then. It was the Fourth Glorious Mystery of the Rosary.

Jon Blanchard

Andy the Albanian replies:

In fairness to Father John, that's pretty much what he said, and it was my summary that blurred the line between feast and doctrine.

As I mentioned in my report, I've always struggled a bit with the doctrine. As my former parish priest used to say, "Never was a feast so well named!"



We rely on voluntary donations to stay online. If you're a regular visitor to Ship of Fools, please consider supporting us.



Easter 2010

From Yunnan in China to Louisville in Kentucky, we report on Easter services, 2010. Read here.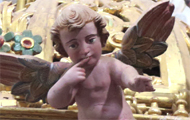 The Mystery Pilgrim

One of our most seasoned reporters makes the Camino pilgrimage to Santiago de Compostela in Spain. Read here.