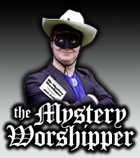 See our archive of reports
Famous/infamous
UK & Ireland
USA
Oz & NZ
Canada
Elsewhere

If you would like to become a Mystery Worshipper, start here.
2719: St Mary's, Alexandria, Virginia, USA

Read this report | Other comments

August 5, 2014

Just as a benevolent clarification, the parish is not only the "mother church" of the Diocese of Arlington but actually dates to 1795, not 1810. Our cemetery was the site of the original church, which burned around 1810. The current building dates to 1827 and has undergone renovations ever since. Land was purchased by Father Fairclough, who mortgaged himself personally to support the debt, returning later to England, where he died.

As a parish, the Church of St Mary was founded by the Society of Jesus missionaries in 1795 (as noted on the sign in front of the church) and Col Fitzgerald, aide-de-camp of General George Washington. The Jesuit fathers came from Maryland (Catholic colony originally) when it was illegal to be a Catholic priest residing (even overnight) in the Commonwealth of Virginia.

Originally part of the "Maryland Assistency" churches, St Mary's is considered the "jewel in the crown" of the churches of that era, when Baltimore was the only see in the Colonies and later the country. In the 19th century it became part of the Diocese of Richmond. By 1973, when the Catholic population increased, St Mary's and other Northern Virginia churches formed what is now the Diocese of Arlington.

Mary A.D. Petrino, ASID

____________________________________________________

August 6, 2014

Thank you for your post of our beautiful parish. We are so very blessed to have such a beautiful church, wonderful parishioners, and wonderful and caring shepherds.

Come back anytime!

Laurie Schultz



We rely on voluntary donations to stay online. If you're a regular visitor to Ship of Fools, please consider supporting us.



Easter 2010

From Yunnan in China to Louisville in Kentucky, we report on Easter services, 2010. Read here.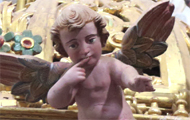 The Mystery Pilgrim

One of our most seasoned reporters makes the Camino pilgrimage to Santiago de Compostela in Spain. Read here.