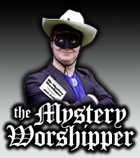 See our archive of reports
Famous/infamous
UK & Ireland
USA
Oz & NZ
Canada
Elsewhere

If you would like to become a Mystery Worshipper, start here.
2679: Prince of Peace Abbey, Oceanside, California, USA

Read this report | Other comments

April 29, 2014

Regarding the singing of the Passion gospel:

We have always had three of the monks (the abbot as Christ, a monk as narrator, and a third for the other parts) chant the Passion gospel, without the congregation "singing along." After all, even though sung, it is a liturgical reading for the congregation to listen to, not for them to join in proclaiming aloud. Therefore, we have never supplied the congregation with printed music for singing along during the gospel.

We were taken aback this year that for the first time in our history a few persons in the congregation attempted to join in singing the gospel, making up their own melodies and thereby throwing off the monk who was to sing those parts.

Revd Stephanos Pedrano



We rely on voluntary donations to stay online. If you're a regular visitor to Ship of Fools, please consider supporting us.



Easter 2010

From Yunnan in China to Louisville in Kentucky, we report on Easter services, 2010. Read here.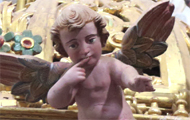 The Mystery Pilgrim

One of our most seasoned reporters makes the Camino pilgrimage to Santiago de Compostela in Spain. Read here.