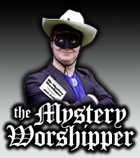 See our archive of reports
Famous/infamous
UK & Ireland
USA
Oz & NZ
Canada
Elsewhere

If you would like to become a Mystery Worshipper, start here.
2673: St Edmundsbury Cathedral, England

Read this report | Other comments

11 April 2014

Just a couple of factual inaccuracies.

There were no recorders or sax. There were, however, a cello and a trombone.

Justin Welby actually had the posed questions about five minutes before the service.

I was there. I played the flute. I agree about the piano!

Daphne Rose

Cornerstone replies:

I stand corrected about the band. Could not see it much from where I was sitting. What you say makes Justin's approach to the talky bit all the more impressive.



We rely on voluntary donations to stay online. If you're a regular visitor to Ship of Fools, please consider supporting us.



Easter 2010

From Yunnan in China to Louisville in Kentucky, we report on Easter services, 2010. Read here.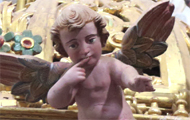 The Mystery Pilgrim

One of our most seasoned reporters makes the Camino pilgrimage to Santiago de Compostela in Spain. Read here.