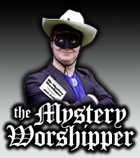 See our archive of reports
Famous/infamous
UK & Ireland
USA
Oz & NZ
Canada
Elsewhere

If you would like to become a Mystery Worshipper, start here.
2667: St Mary the Virgin, Sawston, England

Read this report | Other comments

28 March 2014

Addie was, of course, made very welcome on her visit to St Mary's. Newcomers always are, and it is no surprise that Alan, our priest in charge, greeted her by name at the communion rail, as he invariably does with all who attend our lovely church.

In response to the question "Did anything distract you?" she commented on the man who wandered into church during the post communion prayer and started asking her questions. She should perhaps be aware that we have in our community a "half way house" providing some degree of support to people who have experienced severe mental illness, and are on the road to recovery. As a result, we do have occasional visits from people in a rather disturbed state of mind. Of course, we welcome them in, taking them as we find them, and (one hopes) offering them some spiritual support and friendship.

On the subject of the sermon, I think Addie is perhaps being a little unfair. Alan's clarity, depth of knowledge, and enthusiasm make his words thoroughly engaging.

Otherwise, we felt that her review was well balanced and fair, and are glad that she enjoyed her visit. We hope that we will see her again at St Mary's before too long!

Rob Richmond



We rely on voluntary donations to stay online. If you're a regular visitor to Ship of Fools, please consider supporting us.



Easter 2010

From Yunnan in China to Louisville in Kentucky, we report on Easter services, 2010. Read here.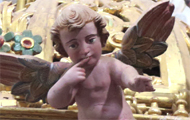 The Mystery Pilgrim

One of our most seasoned reporters makes the Camino pilgrimage to Santiago de Compostela in Spain. Read here.