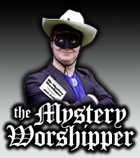 See our archive of reports
Famous/infamous
UK & Ireland
USA
Oz & NZ
Canada
Elsewhere

If you would like to become a Mystery Worshipper, start here.
2659: Shrine Church of Saints Peter, Paul and Philomena, New Brighton, Wirral, England

Read this report | Other comments

1 May 2014

As a journalist I understand the importance of independent reviews and appreciate the irritation of having people like me writing in and saying, "But my experience was great!"

In the interest of balance though, I've visited the Dome of Home several times and have always found both priest and congregation extremely friendly and helpful.

I'm CoE but find the traditional Latin services incredibly beautiful and spiritually uplifting. I guess your reviewer experienced a blip that wasn't reflective of an amazing place.

J Lloyd

Don Bosco replies:

Ever determined, I returned to the Dome of Home the following week. My experience was absolutely identical to that outlined in my review.

I did, however, get to say hello to the rector, but only because a friend who happened to know him introduced me.

I again stress my affinity for Latin and the extraordinary form, but I must also reassert the points made in my review, as it was not a "one off" experience for me. Very disappointing.

I hope to visit the new foundation in Preston; maybe it will portray the Institute in a better light.

____________________________________________________

24 May 2014

I, too, visited this church after reading an earlier Mystery Worshipper report. It was around the time the church was being reopened prior to the Institute of Christ the King Sovereign Priest taking up the reins.

On that occasion the mass was still in English and held in the former Day Chapel. The congregation were looking forward to the advent of the Shrine opening one day soon. I returned for the reopening of Saints Peter, Paul and Philomena, also reported upon by a Mystery Worshipper.

I think what we have to remember is that this church draws towards it a travelling congregation of the "old school" Latin Mass devotees. That does not excuse rudeness, however, or exclusivity.

I myself was ignored and glared at because I whispered hello to someone.

Better luck next time, Don Bosco. Remember, Jesus is asleep in here.

Elisabeth Bamber



We rely on voluntary donations to stay online. If you're a regular visitor to Ship of Fools, please consider supporting us.



Easter 2010

From Yunnan in China to Louisville in Kentucky, we report on Easter services, 2010. Read here.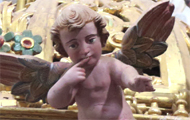 The Mystery Pilgrim

One of our most seasoned reporters makes the Camino pilgrimage to Santiago de Compostela in Spain. Read here.