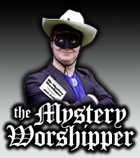 See our archive of reports
Famous/infamous
UK & Ireland
USA
Oz & NZ
Canada
Elsewhere

If you would like to become a Mystery Worshipper, start here.
2634: Newington Green Unitarian, London

Read this report | Other comments

December 29, 2013

I was surprised to see that "We don't ordinarily allow reports on Unitarian churches. However, since the service was related to Christmas, we have made an exception."

I enjoy reading about experiences in a wide variety of denominations (which I may or may not agree with) and locations, but it seems odd that an approved opinion on the Trinity is essential for a visit by a Mystery Worshipper.

Surely it is not to the benefit of this website to declare that certain doctrines unchurch a denomination. After all, the Pope once declared that there were no other churches than his own - all the rest are mere "ecclesial communities."

One of my favourites from a few years back was on the Holy Superet Light Church, which was surely less orthodox than any Unitarian church!

Rodney C.

[Editor's note: We pass no judgment upon the validity of the denominations on which we report. Ordinarily, however, we limit our reports to Trinitarian denominations because that is where the beliefs and expertise of most of us lie. We do not feel qualified to report on "ecclesial communities" that are completely outside of our experience. The Holy Superet Light church, while arguably unorthodox, is nevertheless Trinitarian.]



We rely on voluntary donations to stay online. If you're a regular visitor to Ship of Fools, please consider supporting us.



Easter 2010

From Yunnan in China to Louisville in Kentucky, we report on Easter services, 2010. Read here.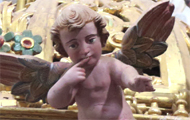 The Mystery Pilgrim

One of our most seasoned reporters makes the Camino pilgrimage to Santiago de Compostela in Spain. Read here.