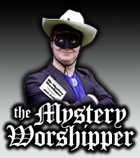 See our archive of reports
Famous/infamous
UK & Ireland
USA
Oz & NZ
Canada
Elsewhere

If you would like to become a Mystery Worshipper, start here.
2608: St John's Shaughnessy, Vancouver, Canada

Read this report | Other comments

16 October 2013

Regarding the report on St John's Shaughnessy, Vancouver:

Rorate's comment takes issue with two particular items: the size of the choir and its wearing "street clothes" in the sanctuary, and the name tag issue.

Taking into account the fact the the MW also comments that this congregation has been split over "a variety of issues" and that the attendance was only about 60 in a church that could hold many more, it is only reasonable that name tags should be worn so as to make introductions to strangers less intimidating.

As to the choir, a realistic estimate of choir to congregation is that 10 per cent of any given congregation will join the choir. Any more and you're way over the top.

The MW does not give us the breakout of men and women in the choir, but it is my personal experience (after 55 years as an organist and choir director) that today's men will not wear "silly" choir robes. So, if we want men in the choir, they WILL wear street clothes. I would suggest that the MW get used to it. You may not like it, but that's the way it is.

Ralph Maxwell

Rorate replies:

I understand that the choir of St John's are made up of students from the university who are studying music. My comment "There should have been more" was prompted by Father Michael remarking that two were missing that morning and joking that they had probably enjoyed a night out previously.

Mr Maxwell, if you were present at the service, surely you remember that remark, as well as the fact that there were two women and one man singing in the choir.

I made no reference to "street clothes" but rather to "casual dress". The choir were in fact dressed in smart casual. Also, in my experience, choir members, whether they are male or female, enjoy wearing robes, cassocks and surplices. It saves them from having to wear out their best casual clothes and can hide a multitude of ... well, we won't go there. Furthermore, choir robes are very Anglican, in the best of the tradition. You just need to look at cathedral choirs and many major Anglican choirs in parishes.

I dislike name tags because they instantly make someone who hasn't got one feel like an outsider. How many weeks would I need to attend before I was elevated to the rank that merits a printed name badge?

Surely we can all be polite and introduce ourselves. The congregation at St John's are actually in the enviable position that they are small and growing slowly. There is no reason why everyone shouldn't know everyone else and get to know new members as they join. The church doesn't grow by looking at someone's breast, but rather by encouraging and supporting each other in the faith, not making some feel ostracised!



We rely on voluntary donations to stay online. If you're a regular visitor to Ship of Fools, please consider supporting us.



Easter 2010

From Yunnan in China to Louisville in Kentucky, we report on Easter services, 2010. Read here.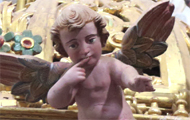 The Mystery Pilgrim

One of our most seasoned reporters makes the Camino pilgrimage to Santiago de Compostela in Spain. Read here.