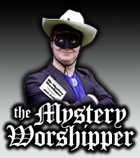 See our archive of reports
Famous/infamous
UK & Ireland
USA
Oz & NZ
Canada
Elsewhere

If you would like to become a Mystery Worshipper, start here.
2589: St Wilfrid, Harrogate, North Yorkshire, England

Read this report | Other comments

9 September 2013

Regarding the report on St Wilfrid's, Harrogate: A fair reflection of our lovely church.

However, I was disappointed to read the comment about the children who were playing nicely at the back. These are much loved church children who have been coming to St Wilfrid's since they were born. I was at that same service and they were absolutely not disruptive.

How sad that this comment will very likely discourage young families.

Mrs Jane Woodhall


Chris Teean replies:

I am very aware that young children are our future church congregation, sidesmen, wardens and so on. It is lovely that their parents bring them to church, but I just wish these parents could exercise some control over them so that those of us who wish to listen to the service can actually hear it.

I was being absolutely truthful when I said that quite a lot of the sermon was lost on me; I could not hear it because of the noise created by a child (or children).

However, I don' t want to make an issue of this because I really did enjoy the service and thought it was a most beautiful church. If I had not been able to say something about "being in the other place", my glowing report about your church might not have been published!



We rely on voluntary donations to stay online. If you're a regular visitor to Ship of Fools, please consider supporting us.



Easter 2010

From Yunnan in China to Louisville in Kentucky, we report on Easter services, 2010. Read here.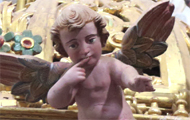 The Mystery Pilgrim

One of our most seasoned reporters makes the Camino pilgrimage to Santiago de Compostela in Spain. Read here.