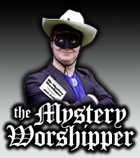 See our archive of reports
Famous/infamous
UK & Ireland
USA
Oz & NZ
Canada
Elsewhere

If you would like to become a Mystery Worshipper, start here.
2584: Dulwich Grove United Reformed, London

Read this report | Other comments

12 September 2013

Thank you to your reviewer for a generally favourable report on our service at Dulwich Grove URC, London.

Our organist on that occasion was not our regular organist, who was on holiday, so I'm afraid fans of "The Demon Headmaster" may find themselves disappointed if they come expecting to find the same organist playing every Sunday.

Also, your reviewer was slightly out in the dating of the hymns. On the Sunday in question, four of the five hymns in fact dated from the latter half of the 20th century, with only the last hymn being of Victorian vintage. For the record, we do sing hymns by both Graham Kendrick and Stuart Townend.

Also, on the Sunday in question, the sermon was kept deliberatley short, as it was already a fairly long all-age service that included ordination, induction of elders, and celebration of holy communion. My sermons are more typically 15 minutes in length.

The Revd Iain McLaren



We rely on voluntary donations to stay online. If you're a regular visitor to Ship of Fools, please consider supporting us.



Easter 2010

From Yunnan in China to Louisville in Kentucky, we report on Easter services, 2010. Read here.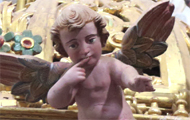 The Mystery Pilgrim

One of our most seasoned reporters makes the Camino pilgrimage to Santiago de Compostela in Spain. Read here.