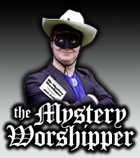 See our archive of reports
Famous/infamous
UK & Ireland
USA
Oz & NZ
Canada
Elsewhere

If you would like to become a Mystery Worshipper, start here.
2575: Baptist Church, Shepton Mallet, Somerset, England

Read this report | Other comments

25 August 2013

Regarding the report on Shepton Mallet Baptist Church:

I am being picky here. However, Baptist churches do not have a font of any description. "Baptismal pool" is the usual designation.

Also, Baptists practise "believers' baptism" which is not always necessarily "adult baptism." It is always an issue of great debate as to how old a person has to be to make a statement of faith.

So that's me on my soapbox. Sorry to be so picky.

Revd Simon Russell


[Editor's note: The word "font" was not used by the reporter (Aileen) but rather was chosen by the editor. The reference has been reworded to conform more closely to the reporter's original language.]



We rely on voluntary donations to stay online. If you're a regular visitor to Ship of Fools, please consider supporting us.



Easter 2010

From Yunnan in China to Louisville in Kentucky, we report on Easter services, 2010. Read here.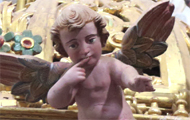 The Mystery Pilgrim

One of our most seasoned reporters makes the Camino pilgrimage to Santiago de Compostela in Spain. Read here.