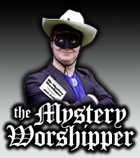 See our archive of reports
Famous/infamous
UK & Ireland
USA
Oz & NZ
Canada
Elsewhere

If you would like to become a Mystery Worshipper, start here.
2562: Christ Church Cathedral, Oxford, England

Read this report | Other comments

25 July 2013

The Mystery Worshipper wrote: "There is a great deal of fuss between the cathedral chapter and the college authorities. As to whether it is the bishop or the dean who holds ultimate authority, no one quite knows."

Even in the Church of England things do change, but as I recall from earlier visits, the dean and chapter run the cathedral. The chapter includes several senior members of the college.

Prior to the early 50s the bishop needed the dean's permission even to enter the cathedral, and not long before that the dean did actually shut the bishop out except for ordinations and the like because of churchmanship differences.

Recently a new position was created for a canon to serve the cathedral (especially for minsitry to the college) half time and the diocese the other half. This is a joint appointment by the dean and the bishop. So far as I can tell, this is the only real say the bishop has in the cathedral.

The dean, incidentally, is dean of both the college and the cathedral.

Revd William Loring



We rely on voluntary donations to stay online. If you're a regular visitor to Ship of Fools, please consider supporting us.



Easter 2010

From Yunnan in China to Louisville in Kentucky, we report on Easter services, 2010. Read here.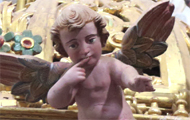 The Mystery Pilgrim

One of our most seasoned reporters makes the Camino pilgrimage to Santiago de Compostela in Spain. Read here.