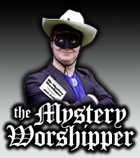 See our archive of reports
Famous/infamous
UK & Ireland
USA
Oz & NZ
Canada
Elsewhere

If you would like to become a Mystery Worshipper, start here.
2544: Christ Church Anglican, Carefree, Arizona, USA

Read this report | Other comments

June 8, 2014

I respectfully disagree with your reporter's observations in the report written on the occasion of the annual thanksgiving service for the Sierra Leone Grammar School Alumni Association.

Seventy-five percent of the congregation on the Sunday in question were first time visitors to the church. Their narrative of the event was completely different from yours. In fact, all of them agreed that the church was welcoming and hospitable. The organist was well knowledgeable.

Your report is skewed and lacks validity. Please be prudent and judicious in your reporting; that's all we ask.

I hope my comments will appear on your narrative of events and will let your readers know that there are people out there who dispute your narrative. I think you owe your readers that.

The Revd Frank Hume Dawson

Amanda B. Reckondwythe replies:

Well of course the congregation will have a different memory of the service than I have. The service was for them and about them. They saw things through glasses of one tint, and I saw them through those of another. In any case, I do not believe my observations were skewed or invalid.

We will have to agree to disagree. I stand by my report in every detail.



We rely on voluntary donations to stay online. If you're a regular visitor to Ship of Fools, please consider supporting us.



Easter 2010

From Yunnan in China to Louisville in Kentucky, we report on Easter services, 2010. Read here.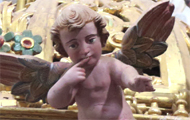 The Mystery Pilgrim

One of our most seasoned reporters makes the Camino pilgrimage to Santiago de Compostela in Spain. Read here.