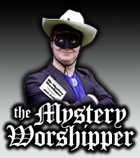 See our archive of reports
Famous/infamous
UK & Ireland
USA
Oz & NZ
Canada
Elsewhere

If you would like to become a Mystery Worshipper, start here.
2512: Holy Trinity Lutheran, New York City

Read this report | Other comments

April 8, 2013

I read the Mystery Worshipper report on the Good Friday evening service at Holy Trinity Lutheran Church in New York City. I think that perhaps the Mystery Worshipper might have been better prepared if he or she were fully aware of the customs of Lutheran Church music before visiting.

"The organist had an annoying habit of introducing each hymn with an improvisation on same, rather than a run-through as most organists do."

Specifically, in most Lutheran churches in Germany and, I suspect, throughout the world, it is an ancient custom, dating back before the time of JS Bach, for the organist to introduce the hymns not with a play-through of the hymn tune, as in most other western Christian traditions, but with an improvised chorale prelude. Part of the training of Lutheran organists is to be able to improvise short pieces on hymn tunes, to be included in the Gottesdienst before the hymn. Bach's Orgelbuchlein collection is simply "improvisations" on German hymn tunes that were written down and are exactly in this tradition and vein of the Lutheran Church.

"The organist seemed more interested in showing off his technique than supporting the congregational singing."

It isn't "showing off" - it is part of Lutheran tradition!

"There was also a choir (or, more accurately, a quartet) of four mixed voices."

Then how did they perform the Lotti Crucifixus - which is for eight voices?

Of course, I wasn't there so I can't comment on the quality of the improvisations or of the singing. But the above are misunderstandings and inaccuracies.

Yours sincerely,

Dr Stephen Lansberry


Amanda B. Reckondwythe replies:

Miss Amanda was not brought up in the Lutheran tradition, but she is no stranger to Lutheran worship. This is the United States, not Germany, and she has not witnessed this style of organ playing in other Lutheran churches she has visited.

But surely on Good Friday of all days the organ should be silent except for accompanying the singing, if indeed for that.

As for the Lotti Crucifixus, they didn't carry it off, and that was her point precisely.

She stands by her reporting. And she'll bet Dr Lansberry a Pfennig that had he been present, his opinion of the music would have been closer to hers.



We rely on voluntary donations to stay online. If you're a regular visitor to Ship of Fools, please consider supporting us.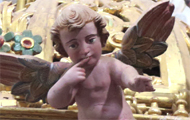 The Mystery Pilgrim

One of our most seasoned reporters makes the Camino pilgrimage to Santiago de Compostela in Spain. Read here.