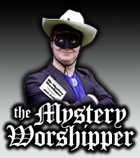 See our archive of reports
Famous/infamous
UK & Ireland
USA
Oz & NZ
Canada
Elsewhere

If you would like to become a Mystery Worshipper, start here.
2489: St Michael the Archangel, Auburn, Alabama, USA

Read this report | Other comments

February 11, 2013

An interesting point in the sermon commentary about Jesus calling his Mother "woman."

My understanding is that we do not have a good English word to translate this passage. The British use the word "ma'am" to address even the Queen, and some British translators have been wise enough to use this word to translate this passage.

Our Lord's use of "woman" is a universal word of respectful, rather than personal, address; it is not disrespectful as it is all too frequently read and preached in the US.

William Barger


William Dewy replies:

Neither Father Victor nor the Mystery Worshipper suggested that the address "woman" was disrespectful. The preacher did suggest, as I recall, that the use of the word "woman" may sound impertinent to modern ears, but that was not how the word would have been understood in first century Cana.




We rely on voluntary donations to stay online. If you're a regular visitor to Ship of Fools, please consider supporting us.



Easter 2010

From Yunnan in China to Louisville in Kentucky, we report on Easter services, 2010. Read here.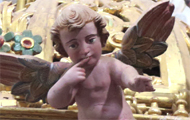 The Mystery Pilgrim

One of our most seasoned reporters makes the Camino pilgrimage to Santiago de Compostela in Spain. Read here.