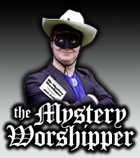 See our archive of reports
Famous/infamous
UK & Ireland
USA
Oz & NZ
Canada
Elsewhere

If you would like to become a Mystery Worshipper, start here.
2488: Cathedral Church of St Paul, Wellington, New Zealand

Read this report | Other comments

4 February 2013

Attached is the text of the sermon on St Paul, "The Many Faces of Paul", that I preached at evensong in Wellington Cathedral on 27th January, the Feast of the Conversion of St Paul, our patronal festival. [Editor's note: attachment removed]

As you will see, I allowed Paul to come through as far as possible in his own words; and though the sermon was put together with a certain amount of biblical know-how, it came over to many in the congregation (as I have since heard) as inspiring.

But perhaps you are not used to solid content and clarity in a sermon!

As a point of comparison, Google up the sermons of Bishop Lancelot Andrewes. They must have taken all of an hour to deliver, and the degree of erudition they display is staggering. And yet these are the very ones now regarded as classics and still read, while little 10 minute wonders we now so much admire are justly forgotten.

Dr. Raymond Pelly, Priest Assistant
St Paul's Cathedral, Wellington


Galadriel replies:

I am grateful to Canon Pelly for sending a copy of his sermon "The Many Faces of Paul". More than a week has passed since I heard him speak, and the written copy has refreshed my recollection of his main points. Canon Pelly did indeed allow Paul to come through in his own words. My comments in the report made clear my appreciation of Canon Pelly's erudition and biblical scholarship.

However, I did feel he could have made his points more concisely. I do not think we can extrapolate from this that the clergy in my own regular place of worship fail to give me solid content and clarity. Canon Pelly and I must agree to differ, I think, about whether the length of a sermon is a good indicator of the solidity and clarity of the content.

I am delighted to learn that his own congregation found his sermon inspiring, since it is to them that he has first responsibility, and I hope that my report will encourage others to come along and hear him. I was merely a visitor on holiday. I will in due course take up his suggestion to re-read Bishop Andrewes, but I hope he will forgive me if I save that until I get home. While on holiday I prefer to follow Shakespeare's suggestion to find "tongues in trees, books in the running brooks, sermons in stones, and good in everything."



We rely on voluntary donations to stay online. If you're a regular visitor to Ship of Fools, please consider supporting us.



Easter 2010

From Yunnan in China to Louisville in Kentucky, we report on Easter services, 2010. Read here.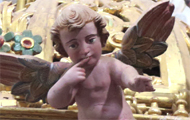 The Mystery Pilgrim

One of our most seasoned reporters makes the Camino pilgrimage to Santiago de Compostela in Spain. Read here.