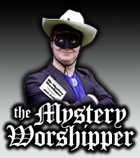 See our archive of reports
Famous/infamous
UK & Ireland
USA
Oz & NZ
Canada
Elsewhere

If you would like to become a Mystery Worshipper, start here.
245: Open Bible Fellowship, Jenks, Oklahoma, USA
Read this report | Other comments
21 January 2007

This looks like an awesome idea – I found you on Google, searching for a certain church.
 
I am writing to validate what your records show at the Tulsa Open Bible Fellowship. Of the many excellent churches in the Tulsa area, this is one of the best for anyone who wants to see a true church with people who are devoted to God's truth, seeking reality and not just "feel good" experiences.  
 
One other I would recommend is in West Tulsa: the Prayer Center, Dave Roberson Ministries. It is truly awesome how God's love works there.  
 
RJ Barnett



We rely on voluntary donations to stay online. If you're a regular visitor to Ship of Fools, please consider supporting us.



Easter 2010

From Yunnan in China to Louisville in Kentucky, we report on Easter services, 2010. Read here.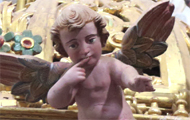 The Mystery Pilgrim

One of our most seasoned reporters makes the Camino pilgrimage to Santiago de Compostela in Spain. Read here.