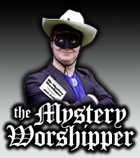 See our archive of reports
Famous/infamous
UK & Ireland
USA
Oz & NZ
Canada
Elsewhere

If you would like to become a Mystery Worshipper, start here.
2433: Greenbelt 2012: Saving Paradise, Cheltenham, England

Read this report | Other comments

3 September 2012

I felt I had to comment on this very unfair and stilted view of Greenbelt's Sunday worship. My wife drew my attention to it, as I had been praising the worship event to the sky!
Everyone is entitled to their view, but I don't feel the reviewer reflected the enjoyment that I was aware of, and not only for myself.
It is not a service where you get welcomed - everyone is in it together. The podium was stunning and the liturgy was very well constructed and I did not recognise the dull tones that your reviewer did. The speakers included all ages and yes, they were women - why not, especially given the the nurturing theme of the four elements.
I am not a Greenbelt diehard. I have been three times and the liturgy worked better this year than on the previous two occasions, because I think it was simpler in terms of the interaction required - basically bubble blowing was the main technical feat required! Also it's about what you make of it - it's not all done for you.
I agree the "bring em all in" song was wonderful and my friend was moved to tears, as was I.
Of course it was muddy but everyone coped, and your reviewer seems to expect a written service to be be rewritten for the weather - ridiculous. Of course grown-ups didn't take off shoes, but children in the family we joined already had, and one adapted to the conditions and made allowance where the words or actions didn't quite fit.
A last point is that I question the consumerist approach you have - worship is participated in, not "laid on" for enjoyment, and in a way enjoyment is just a by-product of worshipping, not the objective.

Kind regards,
Martin Clay



We rely on voluntary donations to stay online. If you're a regular visitor to Ship of Fools, please consider supporting us.



Easter 2010

From Yunnan in China to Louisville in Kentucky, we report on Easter services, 2010. Read here.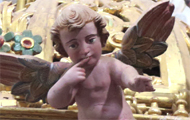 The Mystery Pilgrim

One of our most seasoned reporters makes the Camino pilgrimage to Santiago de Compostela in Spain. Read here.