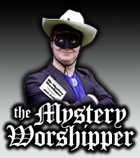 See our archive of reports
Famous/infamous
UK & Ireland
USA
Oz & NZ
Canada
Elsewhere

If you would like to become a Mystery Worshipper, start here.
2403: Christian Life Centre, Horsham, England

Read this report | Other comments

16 June 2012

I was interested to read your review of the Christian Life Centre, Horsham. I'm pleased that your Mystery Worshiper found us warm and welcoming and so tangibly felt the presence of God during the services and amongst our members. Pastor Steve may perhaps have preferred a more glowing report of his sermon, but I'm glad the visitor recognised his faithfulness to God's leading and his actions and dedication in meeting the needs of his "flock."

Just a few minor corrections:

Christian Life Centre was founded in 1994, not 2005, although a Pentecostal church, with many of the same members we still have today, has met on this site for nearly 80 years.

Church ministries:

Alongside Alpha, men's, women's and children's ministries (including mid-week toddler groups), the church also supports an orphanage in Uganda, through the charity Friends Reaching Out, as well as being big supporters of Habitat for Humanity, and have sent teams out to South Africa for five years running. We also support the chaplaincy at the Gatwick Illegal Immigration Detention centre. where a team go in weekly to minister to the inmates, lead a service, and offer prayer counselling. We hold a food bank to support local people in need and are part of a winter night stop shelter for homeless, run by Horsham Churches Together.

OK. That's enough self promotion, I think!

Many thanks and God Bless.

Peter Reeve



We rely on voluntary donations to stay online. If you're a regular visitor to Ship of Fools, please consider supporting us.



Easter 2010

From Yunnan in China to Louisville in Kentucky, we report on Easter services, 2010. Read here.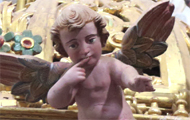 The Mystery Pilgrim

One of our most seasoned reporters makes the Camino pilgrimage to Santiago de Compostela in Spain. Read here.