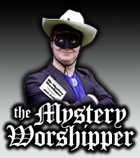 See our archive of reports
Famous/infamous
UK & Ireland
USA
Oz & NZ
Canada
Elsewhere

If you would like to become a Mystery Worshipper, start here.
2374: St Thomas's, Toronto, Ontario, Canada

Read this report | Other comments

19 August 2012

Might I suggest the next time you go to St Thomas Huron St in Toronto you go to the 11.00am solemn mass. The 9.30 mass is by no means a reflection of St Thomas's but rather something put together to suit a small number of parishioners who like a simple and contemporary setting. With that in mind, you will not find a nicer such service anywhere in Toronto.
John Gardham



We rely on voluntary donations to stay online. If you're a regular visitor to Ship of Fools, please consider supporting us.



Easter 2010

From Yunnan in China to Louisville in Kentucky, we report on Easter services, 2010. Read here.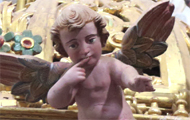 The Mystery Pilgrim

One of our most seasoned reporters makes the Camino pilgrimage to Santiago de Compostela in Spain. Read here.