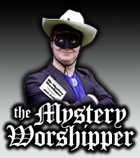 See our archive of reports
Famous/infamous
UK & Ireland
USA
Oz & NZ
Canada
Elsewhere

If you would like to become a Mystery Worshipper, start here.
2315: Sacred Heart, Ilkley, West Yorkshire, England

Read this report | Other comments

6 May 2012

I realise itís over four months since your Mystery Worshipper visited Sacred Heart, Ilkley. However, I too was a visitor to that church today and by sheer coincidence this report was mentioned in the homily! Monsignor Heskin was telling the story of Barnabas welcoming Paul into the Christian community, despite human reservations to strangers, admittedly shared by the monsignor as well as the rest of us.
I agree entirely with Don Bosco, with the exception of his comments on the comfortableness of the kneelers in the church, which I found to be the most comfortable Iíve come across.
Despite the fact that Monsignor Heskin is one of the vicars general of the Diocese of Leeds, I was held captive by his informal preaching, which was not only very personal to his parishioners, but also to me as a visitor.
Iím also glad to report that since Christmas, the congregation spoke up loud and proud with the words of the new translation. Perhaps the confusion when your Mystery Worshipper visited was indeed down to the number of people in the church who donít worship on a regular basis.
Sadly, I found myself one of only a handful who joined in the singing

Su Goodyear



We rely on voluntary donations to stay online. If you're a regular visitor to Ship of Fools, please consider supporting us.



Easter 2010

From Yunnan in China to Louisville in Kentucky, we report on Easter services, 2010. Read here.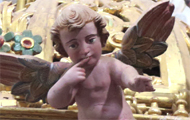 The Mystery Pilgrim

One of our most seasoned reporters makes the Camino pilgrimage to Santiago de Compostela in Spain. Read here.