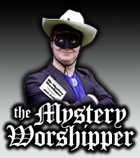 See our archive of reports
Famous/infamous
UK & Ireland
USA
Oz & NZ
Canada
Elsewhere

If you would like to become a Mystery Worshipper, start here.
2295: St Agnes, New York City

Read this report | Other comments

June 4, 2013

I thank you for your very amusing description of the mural at St Agnes, New York City.

I am one of the artists who painted the rather exciting St Agnes on the altar. I was responsible for about 95 per cent of the actual painting, but not the design or the colors. We found a parishioner to pose for the St Agnes; she also posed for the Blessed Mother. She was in fact quite beautiful.

I remember at the time that I wanted to give Mary an unambiguous bosom. When the painting was done, an Italian man who was doing the floor asked me, "John, I gotta ask, who is the chick with the rack?"

I did not reveal the parishioner to him then, nor will I now, but I must say that your "va va voom" St Agnes description really made my day.

John Bosquet-Morra

PS: Should you ever come to my church I will be nervous.



We rely on voluntary donations to stay online. If you're a regular visitor to Ship of Fools, please consider supporting us.



Easter 2010

From Yunnan in China to Louisville in Kentucky, we report on Easter services, 2010. Read here.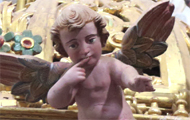 The Mystery Pilgrim

One of our most seasoned reporters makes the Camino pilgrimage to Santiago de Compostela in Spain. Read here.